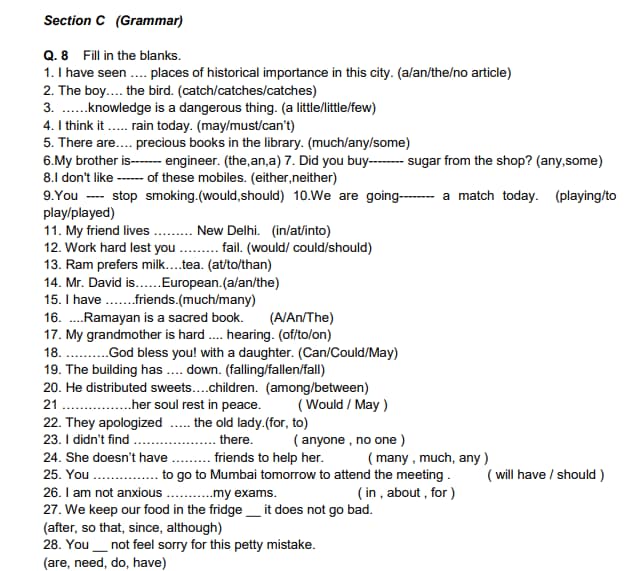 Fill in the blanks section c
I have seen …. places of historical importance in this city. (a/an/the/no article)
The boy…. the bird. (catch/catches/catches)
……knowledge is a dangerous thing. (a little/little/few)
I think it ….. rain today. (may/must/can't)
There are…. precious books in the library. (much/any/some)
My brother is——- engineer. (the,an,a)
Did you buy——– sugar from the shop? (any,some)
I don't like —— of these mobiles. (either,neither)
You —- stop smoking.(would,should)
We are going——– a match today. (playing/toplay/played)
My friend lives ……… New Delhi. (in/at/into)
Work hard lest you ……… fail. (would/ could/should)
Ram prefers milk….tea. (at/to/than)
Mr. David is……European.(a/an/the)
I have …….friends.(much/many)
….Ramayan is a sacred book. (A/An/The)
My grandmother is hard …. hearing. (of/to/on)
……….God bless you! with a daughter. (Can/Could/May)
The building has …. down. (falling/fallen/fall)
He distributed sweets….children. (among/between)
21 …………….her soul rest in peace. ( Would / May )
They apologized ….. the old lady.(for, to)
I didn't find ………………. there. ( anyone , no one )
She doesn't have ……… friends to help her. ( many , much, any )
You …………… to go to Mumbai tomorrow to attend the meeting . ( will have / should )
I am not anxious ………..my exams. ( in , about , for )
We keep our food in the fridge __ it does not go bad.
(after, so that, since, although)
You __ not feel sorry for this petty mistake.
(are, need, do, have)
__ room of this hotel has an AC.
( each, every, some)
He is good __ English.
(in, of, at, on)
__ I do that sum for you?
( shall, will, can, may)
No sooner did the boy see the cobra __ he ran away.
(as soon, than, as, so)
This task has been equally divided between you and ……..
(Myself, Me, I, mine)
When Rohan was a small child, he ____ spend hours everyday playing marbles in the street.
(would, was, should, used)
_____ the better team, Australia lost the match against Bangladesh.
ANSWER
the
catches
a little
may
some
an
any
either
should
to play
in
should
to
an
many
the
of
may
fallen
among
may
to
anyone
many
will have